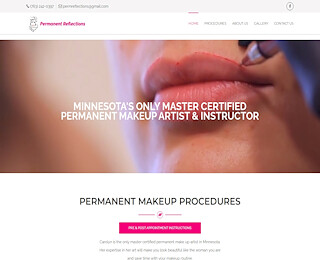 If you've thought about permanent makeup tattooing, then you're likely excited to have 24-hour makeup on that doesn't wear off. It's practical in today's world because everyone is on always on the go. Nobody has the time put on makeup every morning. Whether you have a job, run your own business, or go to school; why wouldn't you want to eliminate as much time as you could fixing your hair and makeup each day!?
We Need Makeup but Don't Have Time for it!
Most people start wearing makeup to feel confident about themselves. When you were young, you probably watched your mom put makeup on and transition into a beautiful woman. Naturally, you wanted to experience that as well. Many of us feel that when we're not wearing makeup we're incomplete. We feel more confident and sure of ourselves when we wear makeup. So why does it have to be such a drag and such a time-consuming part of our lives!?
Did you know that if you spent an average of 20 minutes a day applying makeup from the age of 20-years-old to 70-years-old (50 years), you would spend more than 6,083 hours of your life applying makeup? Think of what you can do with all that time! That's the cool part of permanent makeup tattooing - it does just that! It gives you your time back so you can invest it as you see fit. Whether you want an extra 20+ minutes every day to sleep in, more time to walk your dog, time to exercise, or anything else, permanent makeup gives it to you.
How Does Permanent Makeup Work?
Permanent makeup allows you to hit the ground running the moment you wake up. For the eyebrows, we can use a microblade. We use the microblade to scratch stroke by stroke into the epidermal layer of the skin. The finished eyebrows will look very natural and lively. We use a machine for the eyeliner and the lipstick because it's different than the tattoo. Eyeliner and lips aren't lifelong like the eyelids are, and they last from 3-5 years typically.
Do the Eyebrows Hurt?
You'd be surprised to know that most people don't feel a thing when it comes to permanent makeup tattoos! In fact, many people have fallen asleep during the procedure. Most people say that they experience the sensation of someone drawing on their face. However, you may get a little teary when we're plucking your eyebrows. This is usually necessary for the procedure, and this is about as bad as the pain gets.
What About the Eyelids and Lips?
The lips are usually the most painful. This comes as no surprise since the lips are made of soft tissue. We can administer a numbing agent so that you feel less pain, but you might feel some. All-in-all, most people say it's not that bad and that it was worth it! As you can see, permanent makeup tattooing is a relatively painless way to have fresh makeup on every day as soon as you wake up and all throughout the day. It's also very cost-effective.