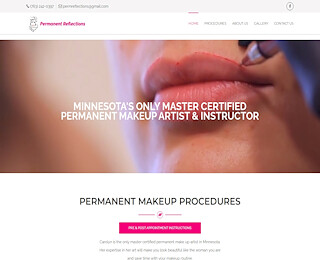 If you're thinking about getting permanent makeup in Minneapolis, you have lots of places to choose from. Location, experience levels of cosmetologists, cost, and several other factors should play a role in your determination of where to go to get permanent makeup in Minneapolis. Naturally, you can expect that Permanent Reflections recommends our beauty clinic for affordable and excellent permanent makeup options. But wherever you go, just make sure you trust whoever is doing the work for you.
Here, you can get your eyebrows, eyelids, or lips done by an experienced professional and enjoy the many benefits that come with permanent makeup.
Hit the Ground Running Each Day
Doing your makeup every day can take up way too much of your time! If you are someone who needs makeup on to leave the house, there are some permanent and semi-permanent makeup cosmetic solutions that may intrigue you, and we'd be glad to discuss them with in-person or on the phone. You will no longer have to spend countless hours each month making sure your makeup looks natural. Permanent and semi-permanent makeup stays on your face for a long time – anywhere from a couple months to a couple years or more!
Increase Your Self-Confidence
Surprisingly to some, people who opt for permanent makeup solutions report feeling more confident and sure of themselves. People with permanent makeup wake up feeling better about themselves in the morning because they love what they see when they look in the mirror. By enhancing the facial features that you least like, you'll feel more confident in interacting with others. You'll feel better about yourself, and you'll also feel more empowered and inspired to chase your dreams or whatever you want most.
No More Smudged Makeup
Permanent makeup is the perfect solution to smudged makeup. You will no longer have to deal with makeup stains and embarrassing runs. You'll have makeup that stays in its place and simply looks beautiful no matter what you're doing!
Permanent Makeup is a Safe Solution to the Cosmetics You're Allergic to
It's especially hard for people who like to wear makeup but are allergic to it. Having a permanent cosmetic is safe when performed by a fully-trained and licensed specialist. Of course, maintaining excellent facial hygiene is crucial for permanent makeup, so be sure to follow the aftercare instructions we give you and start your day with a splash – a splash of soapy water on your face!
Pay Us a Visit Today
At Permanent Reflections, we understand that permanent makeup is a big decision. Therefore, we warmly invite you to book a consultation with us first so you can come in and see our facilities, meet our staff, and get a better understanding of everything you need to know first. You will notice a clean, sterile, and fun-loving environment because all of our beauty technicians truly love making people look better.
Permanent makeup is a practical solution for a lot of people and comes with numerous benefits. For permanent makeup in Minneapolis or to learn more about permanent makeup in general, contact Permanent Reflections today.