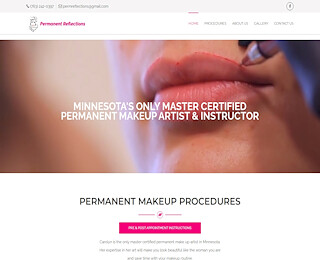 Many people who opt for permanent makeup choose permanent makeup lip color as the focal point of their procedure. This is not surprising seeing how so many people want to have more beautiful lips. At Permanent Reflections, we perform permanent lip makeup all the time, and we'd like to share a few insights with you to help make the experience a positive one.
Make Sure You Have Reasonable Expectations
Many times, we get people who say, "I want to have Angelina Jolie's lips," or "I want to have Kylie Jenner's lips." Unfortunately, it's not possible to give you their lips or duplicate them. What we can do is give you the best version of your lips, and this is what you should want. Makeup is about accentuating and bringing out your own natural beauty, not copying someone else's. That's the model we follow when we apply permanent makeup to our clients at Permanent Reflections, and it's the model that delivers the best results.
Will I Have Duck Lips?
No. Duck lips usually come from lip injections, not from permanent makeup lip color. You might experience some swelling immediately following the procedure, but a little ice on the lips will take care of that quickly.
What you want to look out for is a common mistake made by inexperienced cosmetologists. Often, technicians will work on the skin around the lips, causing the client's lips to like as if they painted lipstick around their mouths. This is because the skin around the lips and the lips themselves are a different color and a different texture. This is why it's so important to choose a reliable specialist like Permanent Reflections. There's zero room for mistakes when it comes to permanent makeup lip color in MN.
The Client is Not Always Right!
You're probably familiar with the saying 'the customer is always right.' Well, at Permanent Reflections, we can tell you for a fact that that's not always true! Of course, we do what our clients want, but sometimes it is the responsible thing for us to talk our clients out of bad ideas. While there are many 'specialists' out there who will gladly take your money and give you a result you embarrassed of, Permanent Reflections won't do that to you. When it comes to selecting a permanent lip makeup color, don't go crazy! If we think that your idea is a bad one, we will try to talk you out of it.
What are Some of the Benefits of Permanent Makeup on the Lips?
You can have your favorite lip color permanently on your lips. When you visit Permanent Reflections, your technician will work closely with you, ensuring that the lip color you chose fits your complexion and personality. You will no longer have to invest in tons of money and time into lip makeup accessories and tools, which in turn will save you money in the long-run.
Does it Hurt?
Permanent lip makeup is also referred to as permanent makeup tattooing. People think 'tattoo' and they think 'pain.' Truthfully, the lips are typically the most painful of the permanent makeup tattooing procedures, whereas eyebrows are one of the most painless permanent makeup procedures. Still, we have clients both young and old with varying levels of pain tolerance, and they all get through the procedure with not much more than a little discomfort.