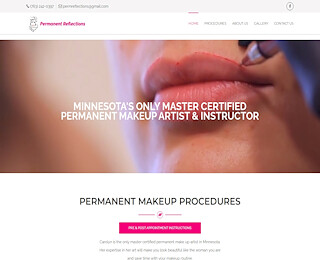 Permanent eyebrows are for people who want to wake up with their makeup on perfectly every day and look their best all day (and night) long. A safe and rather routine procedure, Permanent Reflections not only does eyebrows, but we also do lips and eyelids as well. You can think of us as permanent makeup extraordinaires with hundreds of satisfied clients and zero unsatisfied clients. We do great work, and we can work our magic for you if you'd like. We invite you to visit us. Just stop by our office any time during normal business hours or give us a call to schedule a free in-person consultation.
How Will My Eyebrows Look?
Your permanent brows in MN from Permanent Reflections will look 100% natural. Even from close up, nobody will be able to tell they're not real. Permanent eyebrows blend in perfectly with your natural hair color and texture. They truly are flawless! Contact us today to set up a consultation, and we'll gladly show you some before and after pictures. You may have seen some of the horror stories of permanent make gone wrong on the Internet, but when performed by someone who knows what they're doing, it's a fairly standard procedure that we do every day.
Make Your Eyebrows Fuller
If your eyebrows are the facial feature that concerns you the most, namely that they are too thin, getting permanent eyebrows may be the solution you need. Drawing a perfect brow is a skill. It requires practice, takes up a lot of time, and it isn't easy.
If your eyebrows are becoming more of a hassle then they're worth, don't lost hope! Getting your eyebrows done at Permanent Reflections will change your life! You will finally have the eyebrows you've been dreaming of and you will no longer need to struggle every time you have to get ready. At Permanent Reflections, our cosmetologists will make sure that your results are beautiful and natural-looking.
How Does it Work?
Fixed eyebrows are achieved by essentially tattooing makeup on them. This typically involves some eyebrow plucking, and you will have to pluck once ever 2-4 weeks at home depending on how fast your hair grows to keep your permanent brows looking optimal. Most of the people who seek permanent eyebrow solutions are individuals with naturally thin eyebrows. However, for simplicity's sake and for other reasons, people with bushier eyebrows also choose this solution often. If you have bushy eyebrows, we're not going to completely shave them off. Only some of the hairs are plucked; just enough to make the eyebrows cosmetically appealing.
Contact Permanent Reflections Right Away
Permanent eyebrows in MN are a beautiful, natural-looking, affordable, and practical cosmetic procedure that can boost your confidence tremendously, give you your precious time back each day and save you money over the long-run. Be sure to give us a call or stop by our office today to schedule a consultation and see if fixed eyebrows would make your life better.