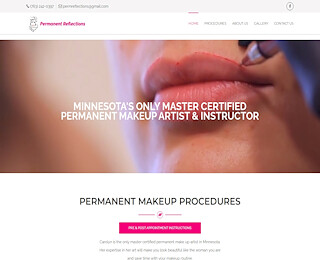 Eyeliner Tattoo in MN Full Craft Solution
Spending longer hours to apply and finish your make up can be a huge hassle especially if you are in a rush. Good thing there is a modernized way to save you from this kind of dilemma. Various artists and professionals around the United States have a revolutionized way of enhancing makeup procedures through intradermal pigmentation solutions.
One of the leading professional permanent make up service provider is Permanent Reflection. Our shop provides simple yet effective remedies and enhancement for problems involving eye and lip lining, scars and stretchmarks, scalp pigmentation, vitiligo, and areola reshaping. This technological procedure is clinically proven safe and effective which are widely used for cosmetic enhancement as well as for recovering or repairing damaged outer layer of the skin.
Our Top Services
Permanent makeup is considerably more convenient and easier to conduct. The process involves application of a particular type of natural pigmentation applied to the skin surface necessary and appropriate for the remedy needed by the patient.
Eyeliner Tattoo in MN
Either for male or female customers, we provide eyeliner tattoo in MN by adding the natural pigment directly into the eyelash area in a linear manner to achieve a more vivid eye look and more enhanced face vibrance.
We can also add enhanced shadow blend of color to attain a darker outlook. This would also be an advantage for those who have allergic reactions to regular makeups and prevent them from acquiring the same irritation for every application of makeup. By using intradermal pigmentation, you can attain a longer lasting fresher look without worrying any irritation or allergy.
Lip Augmentation
This is a lip enhancement procedure which aims to attain a healthier and more improved lip appearance. This is a better solution for those who have issues with cleft portion of the lip, bad-shaped lip, concealed scars or burns within the lip area, and enhancement of the whole lips. This includes paramedical treatment and tattooing procedure.
Scar and Stretchmark Treatment
This is a type of procedure in which the damaged or affected area is blended with your natural skin tone to cover the discoloration, bad texture and uneven portion of the skin anywhere in the body. The effectiveness of the treatment depends on the severity of the skin condition which can be partially or totally balanced.
Micropigmentation Procedure for Scalp Treatment
The scalp treatment is intended as a remedy for patients suffering from hair thinning, balding, Alopecia, and other scalp hair-related problems. The treatment involves permanent make up that blends with the hair color with the main purpose of covering all bald spots that are visible in the head.
This is usually conducted for patients with head scars, hair damage, balding issues, and also extensively utilized for thin eyebrows that need permanent repair.
Contact Details
For further details and information about our services, you may visit our official website of Permanent Reflections at www.permanentmakeupmn.com and register using our online web form. You may also call or email us at +(763) 242-0397 and redmelin1@gmail.com.